Laser Cutting: Advantages & Disadvantages
Tooling 2000 | 1st July 2020

Five-Axis Laser Cutting Machine
There are various types of laser cutting processes that can be used in a wide range of different sectors. In this blog, we will be taking a look at the advantages of laser cutting and how they can benefit you and your business, as well as the things you need to take into consideration when it comes to deciding on laser cutting.
Laser cutting has developed over the years to be able to provide companies with complex solutions to tough problems that were once unattainable (or exceptionally difficult) with traditional methods. This is thanks to the ability that laser cutting possesses to manufacture products with excellent precision; enabling businesses to turn their more complex ideas and designs into a reality in fewer steps.
Thanks to its precision, raw materials can be used more effectively, meaning less waste is produced, leading to improved cost-effectiveness. It doesn't matter if you have a simple or complex design either, the laser cutting technology used today allows for all designs to remain affordable without compromising the quality.
Versatility with Laser Cutting
Arguably one of the biggest advantages of laser cutting is its versatility. Laser cutters can be used to cut nearly all materials including different types of metals, MDF, wood, acrylic and much more. A laser cutter is also able to cut these different materials through varying thicknesses.
Also, as discussed before, laser cutting can fulfil any design specification, from small and delicate to the larger, more complex designs. 3D laser cutting, better known as five-axis laser cutting gives you this type of versatility. This is thanks to its ability to cut through materials and components across three dimensions, allowing the fabrication of these complex parts with speed and accuracy.
Another advantage of laser cutting is its automated ability which requires a reduced amount of manpower.
This doesn't mean that it runs completely on its own, an experienced machine operator still plays a big role in the speed and final quality of the cutting. This is important as it ensures that the product is cut correctly to match the design specification. On the other hand, because there is less of a need for manual labour during the laser cutting process; you'll find that the cost is reduced compared to other cutting methods such as waterjet cutting.
At Tooling 2000, we have invested in two top of the range laser cutting machines; meaning that if one of our machines is out of order, you can rest assured that you will still receive your products without any delays. Also, by combining this protection against downtime with our automation means we can virtually guarantee a continuously operating line.
In the laser cutting process, even though the beam touches the material that it is working with, there is no physical or cutting saw, instead causing the melting and cutting process through heat. The advantage of doing this is that you minimise the damage and potential contamination of the material that you're working with, as well as reducing the mechanical friction that could wear out the tools which would lead to costly repair and maintenance schedules for the moving parts that come into contact with the work surface.
Laser Cutting Disadvantages
As we mentioned earlier, in order to make the most of the laser cutting machines potential, you must have a specialist operator. The reason this is so important is that you want to make sure that the individual operating the laser cutting machine can use it safely, reducing the risk of injury.
Another reason having a specialist operator is so important is that the machine isn't going to set itself up to match the requirements of the project. Having the right setup ensures that the cutting quality is up to the standard that the customer is expecting.
The upfront costs of laser cutting are prohibitive for a number of reasons. As mentioned previously, you will need staff that have been specially trained in order to operate the laser cutting machine so you are able to keep up with the product load and meet demands. When it comes to obtaining specially trained staff, you will either have to pay for some of your employees to go through training or hire someone who has already has the relevant experience. You can't hire only one individual to operate your machines either, making sure that you have a number of people who have the right training to operate a laser cutting machine is vital in order for you to keep up with customer demands
A major factor in the upfront costs is fuel. Obviously, the biggest upfront cost with laser cutting is the machines themselves, but the fuel for these machines is still expensive. When it comes to the upfront cost of fuel, you must factor in how much you will need in order to run your machines and where you end up purchasing the fuel from. Tooling 2000 has a unique configuration that reduces the cost of the fuel used; the saving is then passed onto our customers.
As Laser cutting continues to advance, it will become even more effective and affordable than it currently is as well as helping to make even bigger advancements to the technology used in a range of industries including the medical and automotive industries.
Tooling 2000 has 24 years of experience working in the laser cutting industry; if you are interested in learning more about how laser cutting can benefit your business, then please get in touch with a member of the Tooling 2000 team today on 0121 242 2000 or send us an email on office@tooling2000.co.uk. We look forward to hearing from you.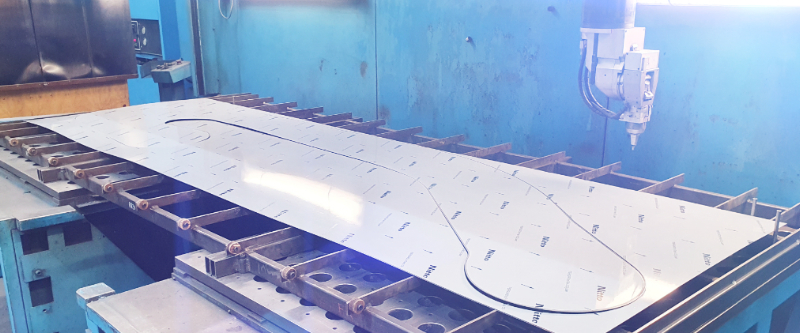 Flatbed Laser Cutting Machine
Have A Question? Get In Touch: